Oh, none taken.

I'm pretty chill. I just wanted to be sure that I was clear.
I know people that go hunting at thrift stores to find unique containers and a lot of them don't have holes. So drilling is an option. Maybe not the best option but a good option when needed.
But also, a good pot can elevate a so-so tree. It is worth it.
Speaking of pots, spent some time this morning trying to pair the pots I won in an auction to my pre-bonsai. Feel free to critique lol. That last one is scary.
That's a very nice prize

So I doubt if that small a pot is a good transition. Need to determine the nebari and reduce roots in a sustainable but esthetic manner. The pot also looks like it curve inward? Any pots like that have broken with freeze and thaw in my climate. Have fun, learn lots, share with others.

The nebari is small and would fit. The root reduction is what I'm worried about. This tree was left for dead in a Lowe's parking lot. I brought it from the brink of death. Just wonder how much of the roots are actually viable. If not many, and with the power being in the foliage, I'm gambling on being able to reduce drastically.

Perhaps I should have a plan B pot.
i generally would have issues with containers that bulge outward from the lip down. How are you going to remove the tree w/o damage to the roots? Even for normal plants i avoid those as getting anything out later is a tremendous hassle (and as stated before, that does not even factor in the damage done to the root system)
Hmm, good point.

I guess break it.

I have many of these outwardly bulging pots, with a lip… I love the look. Overly feminine pot for a feminine tree…
.


.
Work in progress. The much larger 'mother' tree died.
.
Yes, it is harder to repot; and I cuss when I let then go too long. Knowing you will reduce the side roots anyway, a nice kama or serated knife works wonders. Just be careful of the inside edge.
I have only had one of these break in winter. The pot was allowed to get overly saturated with water when it froze. Unmarked lower fired pot. I plan on using the Japanese gluing technique with gold highlighting the dark blue /black surface; when I get a process that works for me.
.
As to pot alternatives…
I almost always have my bonsai in bonsai pots. I get them out of black plastic pots at the first opportunity. Otherwise, the are just trees…
A tree in a nursery pot…A tree in the ground, is not a bonsai. Landscape. In process. Shrubery. I have at least 60 of these. Some may never be bonsai. 20 foot Utah Oak and hedge maples…
.
I see bonsai pots everwhere. Haunt secondhand stores. Flee markets, yard sales. I have, probably, 200 usable bonsai pots. Mostly smaller.
I do have some way cool Japanese chopped (signed) pots. Several very large forest trays. The local club orders in bulk from japanese sources! They ARE not cheep, but worth the price. Online sale places are harder to judge the pot. Be careful what you buy.
You are not going to like what I'm about to say. While I agree with Kurt about getting in a pot quickly, like Bob I also like gradual transition. I think you're early. My method for most material coming out of nursery containers and nursery soil is to repot in a pond basket with your good 1:1:1 mix or whatever your soil comp is going to be for a year and let it grow wild, let it grow a mass of good new fine roots. You are going to reduce a large amount when they come out of those cans. I have heard Ryan quote Randy before…"I'd rather have a fistful of steel wool, than a bowl full of spaghetti." So grow some wool.
Just my .02
I see what you're saying. Ryan also has a stream dedicated to potting nursery stock straight into a bonsai pot.

To each their own I guess. I'm actually taking your approach with some of my trees. There are some that are far enough along for me. Some are going into pond baskets. Some are going into the ground.
This is the first I've heard of this, I'm wondering if you know if the technique has a name that I could search further on Mirai?
It has many names. The most popular of which is probably "the Ebihara technique". That name used to describe a number of things, but the main thing is to plant the tree on top of something like a tile.
Awesome, thank you very much! I'll dive in to this topic as I'm using young nursery material and would like to develop the nebari further.
Have you noticed if this has an impact on the overall trunk development or growth of the tree? Is it a compromise nebari vs trunk? Or no impact in your opinion?
I haven't noticed an impact. I typically don't remember which trees are planted on top of a barrier or not until I dig them up to do a bit of root work. Indicating, to me at least, that there's no impact on trunk development. One thing I'd change in my process is that I would do a lot more root work at the initial planting. I've found that I didn't get the barrier close enough on few of my field trees.
That makes sense if you didn't notice it.
This technique is essentially the process of Deflection of the root system right?

From what I've read so far, the secondary growth of roots starts at, and goes on for longer, at the coarse roots at the base of the stem. And a "Zone of Rapid Taper" (ZRT)develops around the base of the trunk aka Nebari.
Caused by roots having insufficient soil volume and hard landscaping (object) close to the stem.
Paraphrasing - At the top, where there is little to impede growth, horizontal roots in ZRT often see greater increases in the diameter at the top of the root resulting in I or T shaped ellipses. A "T-beam" shape is the result of a root being on the leeward or protected side of the wind.

I wonder:
Can you add horizontal tension to the tree to represent a constant "wind" and encourage large T-beam root nebari to develop stronger on the leeward side?

Can you place other objects in a variety of shapes to further customize the nebari flares direction/height/diameter? And customize the development of the nebari to your aesthetic during early development.
The sorta covers it. I didn't go as far as using nails to direct root growth. I've seen some ppl 3D print a barrier with channels in it for roots. That was cool.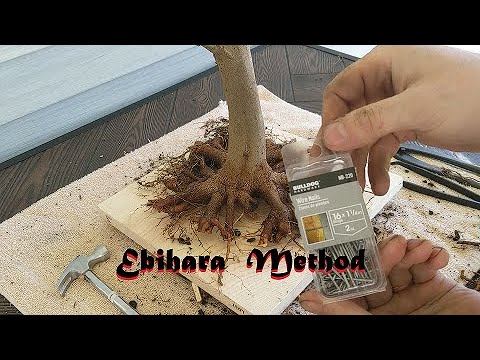 Great link thank you. 3D printing is an interesting idea as well!